In Memory of the 14 Women Murdered in the Montreal Massacre 
 Rus Ervin Funk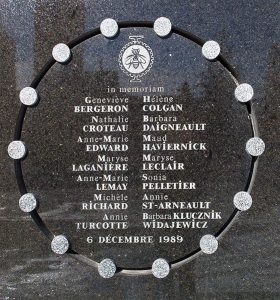 On Dec 6, 1989, a lone gunman entered the University of Montreal Polythechnique, ordered the men to step aside, and began shooting. In the end, he murdered 14 women. The "Montreal Massacre" was, and is, the most devastating mass murder in Canadian history. While the US has had many more and much larger mass murders, on this side of the border we have rarely had any that were such explicit expressions of misogyny.  
The gunman, is his long and rambling suicide note noted a history of being "shunned" by women, his inability to find dating partners, and his anger at "F...g feminists" who were entered in a technical college.  To this day, Dec 6 is a national day of mourning and commitment throughout Canada. 
For the 14 women who were killed that day, now 31 years ago, I honor you and your memory. To your families and loved ones, I offer my hand in sorrow and solidarity. And to the Canadian nation, I join you in saying never again!  
In 1989, I was living in Washington, DC.  This location provided an immediate space for me/us (I was with a grassroots organization called "DC Men Against Rape" at that time) to stand in solidarity. We organized a candle-light vigil at the Canadian embassy. In 1989, we were simply there in silence, although some representatives from the Canadian embassy did speak briefly. DC Men Against Rape organized anniversary vigils in 1990 and 1991. Sadly, after 1991, there was simply nor more appetite or support for us get support for organizing additional anniversary vigils.  
Gender Matters. It mattered that it was a men's organization in Washington, DC that organized and hosted a solidarity vigil. It mattered that it was a man who walked into the University of Montreal Polythechnique and began shooting. It mattered that he divided the men from the women and that he shot only women.  
And gender matters in the much more regular mass killings that continue to happen in the US on a consistent and regular basis since 1989.   
Gender matters in how we understand mass killings, the impact of these mass killings, and how we respond to mass murder/mass violence more broadly. If we don't pay attention to the ways that mass murder and mass violence is gendered, then the way we respond and the action we take in response will miss the mark. We can't prevent what we mis-diagnose!  
Every mass shooting in the US generates a host of analyses about what caused this particular mass murder: mental illness, access to guns, a history of victimization, poverty, social isolation, addictions, lack of access to meaningful care or support services, lack of education… There are always any number of reasons, justifications, excuses, rationalizations as to why someone chooses to pick up a weapon and slaughter other human beings.  
What is almost always missing – because we deliberately choose to "miss it" — is that these mass murderers are always male. And far too often, they target women and girls, (the men who are killed often being unintended victims), have a history of perpetrating domestic or dating violence, and often have a long history of overt misogyny.  
Gender matters – in the ways that we raise (and in many ways require) our boys to see violence as an option, and to see women and girls (and anything or anyone that might be considered "feminine") as appropriate targets for our violence. Gender matters in the ways that we recognize, acknowledge and make room for grief, sadness, fear and anger. Gender matters in how we open doors for folks to engage in activism, and what we describe for folx to take action to address.  
All available evidence is clear – women as just as likely as men to experience mental illness (including those mental illnesses that are related to perpetrating violence), to have histories victimization, just as likely (if not moreso) to experience poverty and social isolation, just as likely to be addicted, lack access to meaningful care and support services…  There does appear to be a gender difference in that boys and men to ten to have greater access to guns. 
And yet we do not see women picking up semi-automatic weapons and driving to the local coffee shop to begin shooting. 
(As a side note, given the rate, persistence, and relentless degree of men's violence against women, men should pause in wonder and relief that women have not taken up arms against us). 
The way that we have defined manhood in the US includes a clear demand that we be willing to be violent – often gruesomely so. Generally there is some clear rationale for when men are to be violent: protecting our homes, or our children or the women in our lives; defined our country or our honor (whatever that means)…   
And relatedly, masculine-type people are directed to express our grief, sadness, fear and anger only through expressing violence. And since most boys and men have been directed to look to women and girls to support us in our times of grief, sadness, fear and anger, and given that male-type people are expected to express these emotions through violence, it should not come as any surprise that we express our violence on and to women and girls.  
As we circle around to yet again hold the victims of the Montreal Massacre, and the whole of Canada in our hearts and minds, let us wrap our arms around their family members and loved ones. Let us take a moment to bow our heads in sorrow and grief. And let us honor who these women were – and were meant (but not allowed) to be.  
Honoring them requires that we do more than grieve! Truly honoring them requires that we commit to taking action! Commit to taking steps that make "never again" actually mean never again! And this begins by recognizing the ways that gender matters in how we understand, and respond to all mass murders and violence.  
In honor of the Montreal Massacre, Please consider making a donation in support of the North American MenEngage Network (NAMEN).  
NAMEN is the regional (Canada and the US) network of individuals and organizational efforts to mobilize men and boys to take action to end gender-based violence and achieve gender justice.  
You can make your donation here (fully tax deductible in the US). 
© 2020 by Rus Ervin Funk, All Rights Reserved 
————– 
Gender Matters is produced and distributed by Rus Funk Consulting – offering a range of services, training and TA to work meaningfully with men and boys to promote gender and racial justice. 
Rus Ervin Funk is an activist and consultant based in Louisville, KY.  You can learn more about my work at http://rusfunk.me/.